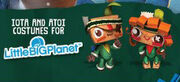 Iota and Atoi are two downloadable costumes you get for free when you pre-order Media Molecule's latest game for the PS Vita, Tearaway. Although at the moment the only way to get the costumes is by pre-ordering the game, it can be assumed that they will eventually become available in the LittleBigStore after the game has been released.
LittleBigPlanet is the first game series by Tearaway developer, Media Molecule
Ad blocker interference detected!
Wikia is a free-to-use site that makes money from advertising. We have a modified experience for viewers using ad blockers

Wikia is not accessible if you've made further modifications. Remove the custom ad blocker rule(s) and the page will load as expected.